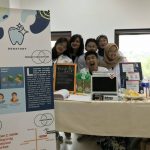 BANDUNG, itb.ac.id – School of Business and Management at the Bandung Institute of Technology (SBM-ITB) has commitment to provide economic related field experiences so students can experience and learn real-time about business. One of proof example that was successfully made through the Integrated Business Experience (IBE) course, a course that empowers students to start a new company, a startup business with ideas and which is built by students themselves.
Integrated Business Experience is a compulsory course for SBM ITB students in the second year, special for Bachelor of Management program. By facilitating students to create companies that can go directly to the community and apply in the midst of economic conditions. Initially, students are expected to collect creations and ideas of what startup companies they want to build and then be selected and form a team that will run the pilot company.
"I am personally very helped by the lecturing model like this, where students can maximized their real experience to build a business with their own capital and ideas. As Chief of Marketing, I learned so much about how to have an entrepreneurial attitude, "said Rizqi Hidayat, one of the SBM 2020 students when met by ITB Public Relations reporter at the SBM ITB building on Thursday (03/07/2019).
The student who owns the Anakost startup company admitted that he had found many obstacles in the midst of the company's development with ten of his colleagues. However, he feel satisfied with the developments that have been obtained since brainstorming period until now. He has done a lot of learning and development with his colleagues.
Integrated Business Experience itself does not only emphasize business and processing capabilities and student managerial skills, but students will also build their social empathy through this course. 70% of the business profits obtained will be the capital used for the Community Project course, a course to perform student service to the community.
In this advanced course, development will be carried out to certain villages which are the target of community service. The construction of various facilities in the villages will help the community to have a better value and quality of life. This course will teach students to be able to have social empathy and also participate in moving towards the progress of the nation.
"It's nice to be able to contribute to society through this course. Also as a student, I hope that what is gained in this course can be very helpful for my life after the lecture world. "The experiences gained, both when dealing with vendors, learning public speaking, even the friction with fellow team members is also a valuable learning material for the future," concluded Rizqi Hidayat.
Reporter: Josefanny (Intern IJA 2019)
Source: https://www.itb.ac.id/news/read/57018/home/integrated-business-experience-belajar-bisnis-sekaligus-belajar-empati
Translated and edit by: Margareth Tobing MBA