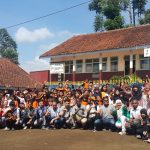 A sunny day in the morning on February 23, 2019, all exchange students participating in the 2019 Student Exchange Cultural Trip with enthusiasm gathered in the parking lot of the MBA ITB. The Student Exchange Cultural Trip is an annual activity organized and prepared by the International Relations Office of SBM-ITB to provide an experience of learning and socializing with Indonesian people, as well as introducing the culture and daily lives of Indonesian people.
Students are expected to have positive experiences from this activity and can share experiences with other students. A series of activities prepared by the International Relations Office SBM-ITB made them look very excited. Spend about two hours heading to the location of the activity. Our first destination is in elementary school namely Sekolah Dasar Negeri Sukalaksana II, which has 280 elementary school students with 14 teachers. Greeted warmly by Elementary School students and teachers who attended the day. The Principal Mr. Asep Supriadi opened the event by giving a welcome speech to 24 students from 14 countries in the school. Playing, morning sports, dancing together, and ending with art performance from student exchange students made the event was very impressive. The program at the school was closed with a taken photo together with all students and teachers, and students continued the journey for the next activity.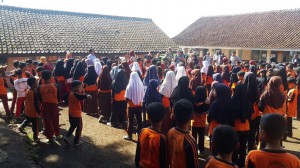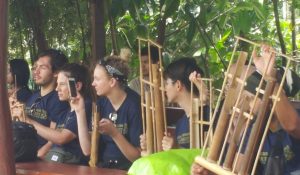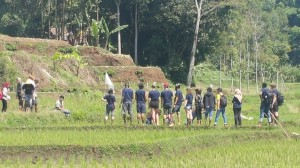 The activity continues by visiting a local village called Ciburial Tourism Village, this village is a village formed for tourism villages, where the village provides more sightseeing facilities to a culture-thick rural atmosphere. It is necessary to know this Ciburial tourist village called Sukalaksana Village located in Samarang sub-district, Garut Regency, West Java, Indonesia.
Explore the Village
Locals with friendliness as a characteristic of the Indonesian nation by inviting students to show the culture around the village which is part of the customs of the people of Garut by walking around the village, such as;
1. Cultivating rice in the fields of local residents was a very impressive experience for students
2. Visiting local entrepreneurs who produce Folding Bags, Batik, Blacksmith known as Gosali.
3. A welcoming culture where tourists will be welcomed with children carrying angklung, a type of musical instrument from bamboo, that will take students to the main saung to meet with the village chief or village leaders and learn to play music using angklung together.
4. Learn to know Pencak Silat martial arts, namely the original martial arts characteristic of West Java.
5. Adu arrowroot dexterity, namely arrowroot art, and culture that demonstrates the pride and uniqueness of the original Garut sheep which is decorated with various rituals, typical Garut music, and customary culture.
6. Lunch with local residents with a typical culinary offer of Garut, such as liwet rice, fried chicken with serundeng, fried foods, kerupuk and lalapan, and also typical Garut chili sauce.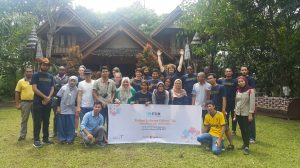 The whole series of activities were completed in a day. After students complete all the activity agenda, our trip ends by returning to Bandung in the afternoon. Around 6:00 p.m., students were back in the MBA parking lot with millions of interesting experiences that were very useful during their studies in West Java. Indonesia.
Author: Eka Yuliana